Research Project
Supporting the execution of flexible service processes through augmented reality
(carried out at the TU Munich)

Context
Service innovations through digitization
Digitization is the central growth and innovation driver of the present. It is rapidly and sustainably changing value creation patterns and contexts. Redesigning services in this context is a key challenge for our economy. Digitization opens resources such as process and operational data for new services, changes interaction in service processes and contributes directly to linking previously separate service systems. Services are becoming time and location-independent, scalable, and easier to standardize. On this basis, the ongoing development towards complex service systems can be mapped better, enabling more comprehensive and high-quality engineering of these systems. The aim of the funding priority is to take a step towards highly efficient service systems and to achieve better consumer involvement in the creation and production of services. The result are opportunities for companies and customers to individually design and implement services according to their preferences and lifestyles.
Benefit
Raising potential for SMEs in the use of innovative technologies for the digitization of service processes
Innovative technologies such as augmented reality are already widespread in some industries. For example, they are used for sales demonstrations as well as in sports broadcasts to explain the rules to viewers in an abstract, playful way. However, SMEs do not have the expertise or resources to evaluate new technologies such as augmented reality in terms of their operational benefits and to introduce them into their value chain. Especially flexible service processes must be translated into the algorithms of augmented reality regarding customer-specific requirements, implicit knowledge, and high complexity. The prerequisite for this is to digitize the service processes.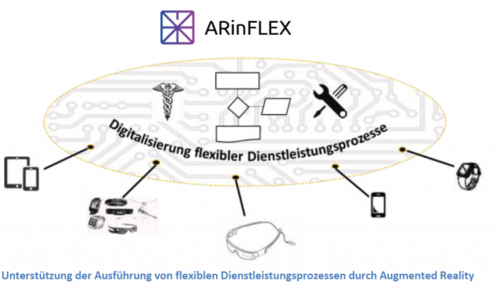 Aim
Method for digitizing service processes
The ARinFLEX joint project will support SMEs in using augmented reality to digitize service processes. By means of a digitization index, service providers will be able to identify their degree of digitization ex-ante and evaluate improvements ex-post. SMEs can identify the potential for digitizing their services by receiving support in requirements surveys and evaluating technology properties. Translated into the technology of augmented reality for data glasses and tablets, case studies for the digitization of flexible service processes are developed in the domains of industrial maintenance and care. By automating and digitizing recurring documentation tasks and providing context-specific information using augmented reality, efficiency gains and increased customer and employee satisfaction can be achieved. The application and implementation partners in the project from the care and special mechanical engineering sectors will use the applications accordingly to digitize their service processes.
Implementation
To achieve the project goal, the current state of research will be investigated and potential use cases in the field of healthcare delivery and maintenance will be identified. In addition, concepts and applications in both healthcare delivery and maintenance will be developed and validated in field studies. The results will be evaluated and a method for implementing supporting information technologies will be developed. The project will be conducted in three successive iterations, with project deliverables refined and improved through each iteration. The first iterations will complete a prototype implementation of smart glasses in maintenance. The second implementation will focus on prototype integration in healthcare. Finally, in the third iteration, a cross-sector method for digitizing flexible service processes will be completed. Throughout the project, a continuous communication phase ensures that all relevant stakeholders are informed about the realized project results.
Work packages
Project coordination and expert workshops
Requirements for the digitization of services
Analysis of the current state of flexible service processes in maintenance and healthcare
Design and pilot testing in the maintenance and healthcare sectors
Evaluation of the results in maintenance and healthcare
Methodology for the introduction of supporting technologies (MethoDIG)
Knowledge exchange and transfer of results