The Chair publishes a paper at the 29th European Conference on Information Systems (ECIS)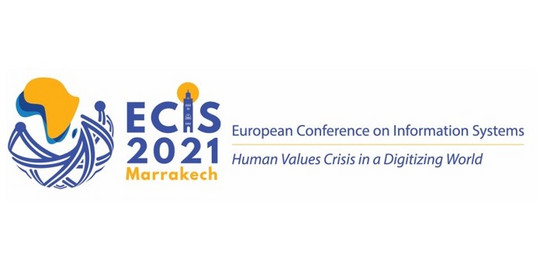 Please use DeepL for translation.
Die ECIS-Konferenz fand dieses Jahr in Marrakesch (Marokko) vom 14.-16.06.2021 statt. Die Pro­fes­sur Digitale Trans­for­ma­tion war mit einem Beitrag vertreten:
Niehaus, Florian and Wiesche, Manuel, "A Socio-Technical Perspective on Organizational Interaction with AI: A Literature Review." (2021). ECIS 2021 Research Papers. 156.
https://aisel.aisnet.org/ecis2021_rp/156
Die europäische Konferenz für Wirtschaftsinformatik bietet Wis­sen­schaft­lern, Praktikern und Nachwuchskräften die Mög­lich­keit, sich über aktuelle For­schungs­er­geb­nis­se zu in­for­mie­ren. Unter dem Motto "Human Values Crisis in a Digitizing World" gab ein umfangreiches Pro­gramm Impulse für die Wei­ter­ent­wick­lung der di­gi­ta­len Technologien und deren Aus­wir­kungen auf Individuen, Organisationen und Gesell­schaft – gerade in einer globalen Krise wie der Covid-19-Pandemie.
Die europäische Konferenz wurde aus Gründen der Inklusion des afrikanischen und arabischen Forschungsraumes in Marokko geplant, fand allerdings ausschließlich virtuell statt.