Publication of a book on service innovations with AR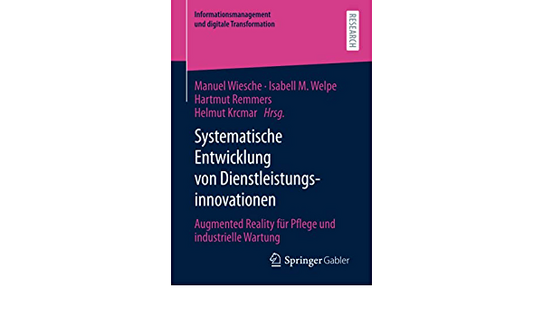 Please use DeepL for translation.
Die Professur hat gemeinsam mit Helmut Krcmar und Isabell Welpe von der TU München sowie Hartmut Remmers von der Universität Osnabrück das Sammelband "Systematische Entwicklung von Dienstleistungsinnovationen" zum Projekt "Augmented Reality in flexiblen Dienstleistungsprozessen" (ARinFLEX) veröffentlicht. Dieses zeigt Anwendungsfälle für Dienstleistungsinnovationen in Pflege und industrieller Wartung auf. Dabei entwickeln wir Ideen, Konzepte und Prototypen für innovative Dienstleistungen mittels Augmented Reality und evaluieren diese in verschiedenen Kontexten. Der Sammelband bietet Grundlagen, Kontext und methodische Unterstützung zur Digitalisierung von Dienstleistungen in Pflege und industrieller Wartung.
Das Forschungsprojekt wurde mit Mitteln des Bundesministeriums für Bildung und Forschung (BMBF) im Programm "Innovationen für die Produktion, Dienstleistung und Arbeit von morgen" gefördert und vom Projektträger Karlsruhe (PTKA) betreut.