Participation in the ICIS 2022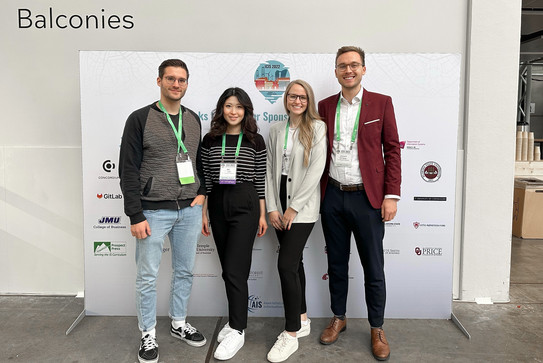 The chair participated in the International Conference on Information Systems 2022 in Copenhagen, Denmark.
The PhD students presented their research work in pre-ICIS workshops of the respective Special Interest Groups (SIG) and received valuable feedback.
Lisa Gussek presented the paper "Challenges of IT Professionals as Freelancers on Digital Labor Platforms: A Topic Model Approach" (co-authors: Alex Grabbe, Manuel Wiesche) at the SIG Sourcing workshop.

Vincent Heimburg presented his paper "Understanding Power in Digital Platform Ecosystems" (co-author: Manuel Wiesche) also at the SIG Sourcing.
Kay Hönemann attended the Human Computer Interaction (HCI) SIG workshop and presented his paper "Enabling Non-Professional Users To Bring Physical Processes Into The Industrial Metaverse" (co-authors: Björn Konopka, Manuel Wiesche).
Mai Nguyen presented her paper "Consequences of Project Team Member Turnover for Agile Information Systems Development Teams: A Multiple Case Study" (co-author: Manuel Wiesche) at the SIG IT Project Management workshop.
The research work of all our PhD students was met with a lot of interest from the other conference participants. This resulted in exciting discussions and new perspectives. All in all, the visit of the conference was characterized by interesting insights, exchange opportunities with other researchers and inspiration for the members of the chair.